MIAMI MAY HAVE TAKEN THE LEAD IN THIS REAL ESTATE CYCLE, BUT MAJOR HIGH-END RESIDENTIAL DEVELOPMENTS ARE COMING TO AREAS OUTSIDE THE MAGIC CITY.
BY SEAN MCCAUGHAN
The times, they are a-changing all over South Florida, and the towns north of Miami are certainly no exception. With last year's demolition of Ireland's Inn, a midcentury oceanfront building that was once quite literally the poster child of historic preservation in Broward County, Fort Lauderdale Beach's shrinking acreage along the Atlantic is becoming increasingly high end. The bright pint building, with its swooping curved shape, faintly reminiscent of a mini Fontainebleau, had in 2005 graced the posted of a photography exhibition by Robin Hill on the city's imperiled midcentury architecture at the Museum of Art Fort Lauderdale. Now, there will be a new beauty: Soon to sprout on that spot at 2200 North Atlantic Boulevard is the Auberge Beach Residence & Spa (aubergebeach.com), a luxury focused tower of oceanview condos being built by The Related Group as one of the largest investments north of the Dade/Broward line in this real estate cycle.
The Auberge will certainly be impressive, with 171 condo units ranging in size from 1,500 to 5,000 square feet, in two towers that will break ground later this year. But, it won't be alone. Just down the beach, a gigantic hotel on Fort Lauderdale Beach designed by internationally renowned modernist architect Michael Graves is finally coming back to life. Its opening day, originally planned for 2009 as a Trump International Hotel & Tower, never came, but it will have another chance as a Conrad Hotel and condominium called The Ocean Resort Residences Fort Lauderdale Beach (theoceanfortlauderdale.com). The 24-story tower, designed by Graves with an ocean linear aesthetic, is getting a $34 million upgrade by architecture firm Garcia Stromberg – led by Oscar Garcia, who helped Graves with the original design. The condo-hotel's 290 units will range in size from 499-square-foot studio pied-á-teres (doubling as standard hotel rooms) to three penthouse units, the largest at 4,100 square feet.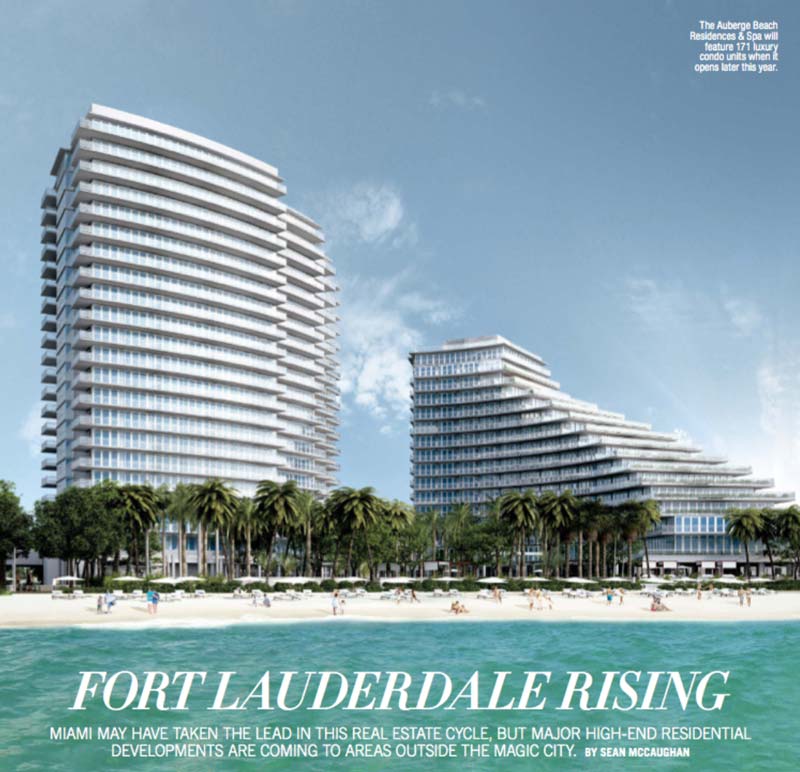 Near the Conrad, the Paramount Fort Lauderdale (paramountresidences.com), an 18-story condo tower with 95 luxury units that broke ground in December, replaces another midcentury beach hotel, a grim and institutional Howard Johnson's without any distinctive architectural features. Slated to be completed by late 2016 or early 2017, the Paramount includes units ranging in size from 1,910 square-foot two-bedrooms to 3,474-square-foot four-bedrooms with "convertible" (albeit windowless) dens, beginning at $1.2 million.
In Fort Lauderdale's "South Beach" area, the Bahia Mar Fort Lauderdale Hotel (bahiamarhotel.com), known as the home of the Fort Lauderdale International Boat Show, is getting its own major overhaul. The hotel will be completely renovateD and updated, with new rooms added to the oceanfront side, along with retail and restaurants lining A1A, and an expanded marina and public space to the west, all in a park-like setting. It will be "a permanent residence for the boat show for the next 50 years," says developer Jimmy Tate, who believes Fort Lauderdale "can have the same type of development and quality as Miami."
Tate is taking advantage of the Bahia Mar's expansive 39-acre site, which he says is mostly underutilized now, as well as its location, towards the slightly "tired and old" southern end of Fort Lauderdale Beach, which he believes is ripe for change. "We truly hope to transform that area into something significant," he says. While still in early development, he plans to submit designs to the city for approval in "either mid-April or May."
Moving up the New River, to the heart of downtown Fort Lauderdale, Related is developing Icon Las Olas (iconlasolas-fortlauderdale.com) along the Fort Lauderdale Riverwalk. Related announced the 272-unit condo tower way back in 1999, but the project stalled during the recession. With a healthy real estate market, as well as design modifications with its historic neighbor, Stranhan House, in mind, Icon Las Olas has been reborn. There's also a joint venture between Stephen Ross 's Related Companies and Jorge Pérez's Related Group to reinvent the W Fort Lauderdale. All 147 condo residences in the property's West Tower will be renovated and marketed, while the hotel's public spaces and guest rooms will get a total revamp, as well as a big-name chef opening up a restaurant.