New Yorkers have long had close ties to Miami – from investing in the 1920s land boom to the glory days of the 1950s and 1960s, when the city was a millionaire's playground and Joe DiMaggio and Frank Sinatra, along with the rest of the Rat Pack, partied at the iconic Fontainebleau. In the 1990s, a cohort of New York photographers, led by Bruce Weber, helped put the city on the map for the fashion set. The latest chapter in this tale of two cities sees Miami as magnet for a new Manhattan-amid the palm-trees crowd, who come with less fanfare than Sinatra, but with a lot more money – New York billionaires and centa-millionaires, like Goldman Sachs CEO Lloyd Blankfein or Leon Black, cofounder of private equity firm Apollo Global Management (estimated net work $5.1 billion), who are not only scooping up trophy properties in the Magic City, but also hanging around to enjoy the fun.
"A word that has disappeared from our vocabulary here is 'the season,'" explains star architect Bernando Fort-Brescia of Arquitectonica (whose buildings have transformed Miami's skyline and the world's perception of the city). "Because today, New Yorkers can come here and find the same kind of culture, food, and entertainment they left behind them." When a New York billionaire boards his private jet for the two-and-a-half-hour flight to Miami (less time than it would take to get to the Hamptons in summer traffic, unless he's choptering, of course), increasingly he's heading to a place where he can find a lot that reminds him of Manhattan – even his favorite restaurant may now have a Miami branch.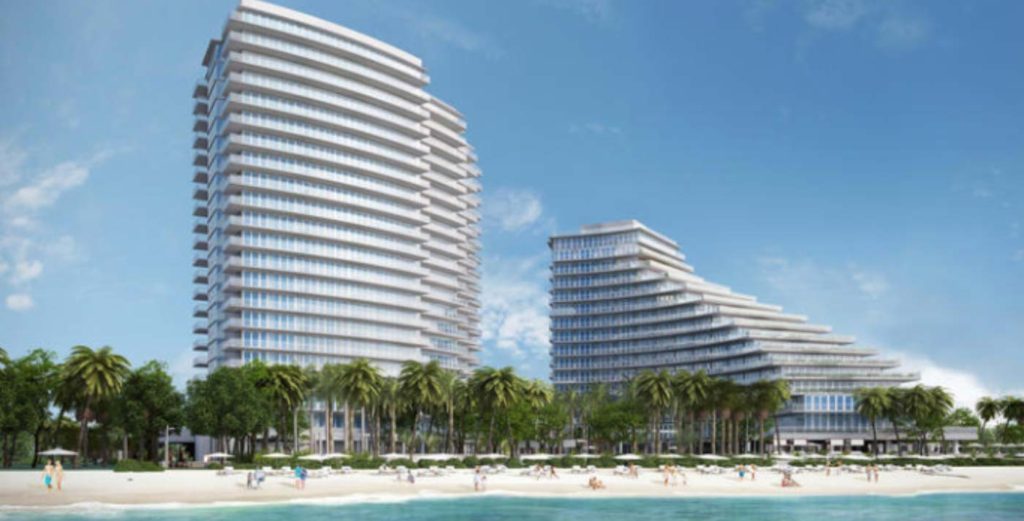 Richard LeFrak understands the urge on the part of his fellow billionaires to take another look at Miami. "Miami has grown up," says Le Frak, a New York-based developer who is spending more of his time – and getting involved in more business ventures – in Miami these days. But it wasn't always a natural fit. When LeFrak began working on the recapitalization of a troubled bank in 2009, he found himself as an investor in another financial institution – and the owner of a lot of unsold Miami condos. "The world was yelling that this was a 20 year supply; a glut on the market." Thanks to an influx of Latin-American buyers, it turned out to be no such thing; the Miami real estate boom was born, along with LeFrak's growing fascination for "New York South."
He remains a die-hard New Yorker, and spends about six week a year in his second home. That's more than double the amount of time LeFrak used to spend in Miami; he now owns four condos there, has an office in the city, and has been spotted everywhere, making the social scene, celebrating 1 Hotel & Homes (a coproduction with Barry Sternlicht , chairman of Starwood Capital Group), and dining at Bâoli. Why the new commitment to Miami? "A lot of my friends are thinking about the city; they say it's different than it was or than they thought. More and more, they're willing to plant a stake in the ground."
In fact, both Miami and New York have changed, say the billionaires who travel between the two cities and have feet in both camps. The fact that these transformations have occurred almost simultaneously explains why Miami is beginning to exert such a magnetic attractive on a certain breed of New Yorker: ultra-affluent, ultra-mobile financiers, business titans, and creative minds who insist on living in a global city, but are considering the tax benefits of having an additional residence in Florida. New York has become a more challenging place to live: Taxes are becoming more burdensome, and wealthy residents are particularly worried that the city's new mayor, who came into the office declaring, "It's time to ask the wealthy to do a little more," will propose policies that would shift the tax burden in their direction. And yes, there are those blizzards – Mother Nature hasn't done Gotham any favors in the last three years.
Miami, in contrast, glitters all the more brightly.
There's the weather, which may become oppressively hot and humid from July through September, but is a delight in the autumn, winter, and spring. You're a pro sports fan and worries you'll miss the Yankees, the Mets, the Nets, the Rangers? Well, what's not to like about the Miami Heat? The Dolphins? The Marlins? If you're a culture vulture, the Adrienne Arsht Center (which opened its doors in 2006) is the place to go to hear the exciting (and world-acclaimed) New World Symphony. Art Basel Miami is one of a handful of art-fair destinations that no collector would dare miss, bringing the who's who of contemporary art from around the world to the city in December.
Jorge Pérez, an avid collector and one of Miami's biggest developers and wealthiest citizens, has donated $40 million (in cash and cart) to the former Miami Art Museum and has helped enshrine the museum's collection in an iconic, newly designed building that opened less than 18 months ago. The renamed Pérez Art Museum will be one of the anchors of Miami's new Museum Park district downtown. "If I'm a guy who likes art, well, there will be stuff that just doesn't come to New York but that ends up here, especially work by great Latin American artists," Pérez says. "And we know that New Yorkers appreciate art, and we're acknowledging that by putting museum-quality art into our developments," including pieces by Frank Stella that he snapped up during Art Basel last December.
Just who is investing in Miami and what are their reasons? The list is a diverse one. Hedge fund manager Eddie Lampert, once a familiar sight in financial circles in New York, is spotted much less frequently; he has relocated his Greenwich, Connecticut-based fund, ESL Investments, to Miami, and is now often spotted there.
Talk to Fields, or any one of the developers building condos and increasingly pitching them to New York buyers, and you'll understand just why someone might be smiling after committing to a $10 million purchase – and putting 50 percent down on a still-unfinished condo project, more often than not. It all boils down to relative value: At a time when buying a condo in a top New York building will cost you $5,000 per square foot and an ultra luxury apartment may set you back $13,000 per square foot or more, those figures are, for the most part, still far, far out of reach in Miami. Yes, prices on Miami Beach or in the ultra-luxe buildings (like Faena, or the Four Seasons development) are more costly; the still-unknown purchaser of the duplex penthouse at Faena paid a record $50 million-plus for his new pad, in exchange for which he'll get two kitchens, a media room, a wrap-around terrace that has more outside space than the condo has indoors, and a 70-foot-long infinity pool on the rooftop terrace. But even at the high end, says developer Edgardo Defortuna, an Argentine-born, Miami-based real estate developer and founder of Fortune International Group, "Luxury properties on South Beach are $2,500 to $3,000 per square foot – and that's Chelsea. There's no beach there."
Power real estate broker Eloy Carmenate, also at One Sotheby's International Realty, has helped drive those pieces northward in large part by selling condos to eager New Yorkers, who make up nearly three-quarters of his clientele. The average condo he sells fetches between $5 million and $8 million, but he also hold the record for the highest price per square foot – $4,760 on a single Miami transaction. Carmenate says that, as the New York phenomenon has exploded in the last three years, the market has broadened geographically, even as it has deepened. "Buyers started off escaping and then went from owning smaller homes as 'testers' while they sampled what Miami had to offer to snapping up more valuable real estate," he explains. "At first it was centered around South Beach; now people are willing to look further, to be adventurous. They realize that Miami is an urban city with a beach that is always going to be accessible" That may mean that the latest crop of New York arrivals venture farther north to Bal Harbor or Surfside or leaves the beach altogether for downtown neighborhoods like Brickell that increasingly are a hive of activity. One of the more modest luxury developments – in size and price tag – is Louver House, with prices starting at $1.9 million or only $1,100 per square foot. "I call it tropical Tribeca," says Carmenate of the design, calculated to appeal to urban dwellers from Manhattan, albeit with the usual array of Miami amenities, including a pool and cabanas in the South of Fifth neighborhood of Miami Beach. The average price for Tribeca real estate, of course, starts at nearly double that.
Increasingly, developers are paying attention to what New Yorkers want when designing buildings. Yes, the flashy features are still there – as in the Porsche Design Tower, whose residents will have plunge pools and summer kitchens on their terraces and car elevators enabling them to park in sky garages. But the typical New Yorker prizes white-glove service and amenities – access to a private spa, say, or a bar. "We have an aperitivo bar in the lobby, a kid's playroom, a fur-storage facility, a movie theater, and two pools with cabanas," says Heinrich von Hanau, CEO of Fisher Island Holdings, now completing Palazzo del Sol on Fisher Island. The island's first new development since 2007, it's fetching lofty prices: An undisclosed Russian buyer just paid triple the previous high price, or $3,602 per square foot, for the penthouse, a $35 million purchase. When it comes to layout, new Yorkers who are increasingly making Miami their second home prize closet space (who wants to go back and forth with a suitcase?) and large dining areas for entertaining – and architects are obliging. "There is no point in replicating their New York space; they are here to escape that mode of life and find big, open  spaces," says Fort Brescia.
In Miami, oceanfront views are a fiven, even if you're seeing them from a 10-minute drive away from your Brickell condo. ("Young, hipper buyers are fine living that distance away – and in our SLS Brickell development, we include a membership to SLS in South Beach," notes Related's Pérez.) In New York? Well, if you want ocean, you need to venture out to the Hamptons, where a waterfront lot will start at $30 million, When most of your Hamptons social circle is zooming to and from Miami except between Memorial and Labor Days, why bother?
Nitin Motwani has been preaching the benefits of Miami for years. The former trader for Goldman Sachs, who grew up in Fort Lauderdale, began investing in South Florida real estate in 2006, assembling parcels of land on the fringes of downtown Miami. The properties evolved into a large, multi-use project, including a new luxury condo development, Paramount Miami Worldcenter. Motwani spends most of his time now working on the Worldcenter project, but whenever he can, he tries to woo hedge fund managers on behalf of Miami's Downtown Development Authority. The DDA is on a mission to convince more New York and Connecticut hedgies to follow in Eddie Lampert's footsteps. The only notable taker so far has come from Los Angeles, but Motwani figures that so many hedge fund managers are spending their time in the city – some even telecommuting and making Miami their de facto residence for tax reasons – that it's only a matter of time. "It can start small, with satellite offices, and grow to be big," he says.
A potent lure for Florida residency (of at least six months plus one day), of course, is taxes. Florida has no personal income or estate tax. "Not only is Florida a great place to live, it's also a great place to die," quips Miami Beach's mayor, Philip Levine. There's no state capital gain tax either. Florida's governor, Republican Rick Scott, a former venture capitalist, vehemently opposes the idea of taxing incomes of venture, private equity, or hedge fund manager; proposals to tax their profits as ordinary income rather than as capital gains (and thus collect billions more in revenue) keep resurfacing as a political issue in New York. A provision of the tax code that will require hedge fund managers to repatriate all fees and earnings held in offshore accounts by 2017 adds a new wrinkle. Who wants to pay state income taxes on all of those funds once they're back in the country?
And then, there's the weather. "One of my friends from Darien came for four days last weekend and he's still here, a week later," says Edgardo Defortuna, the Miami-based real estate developer and founder of Fortune International Group. But for all the ways in which New York and Miami have become sister cities in the last few years, they are still distinctly different – and it's those differences that will keep the ultra-affluent jetting back and forth. "You can't give up New York – who are we kidding?" says Elroy Carmenate of One Sotheby's International Realty. "Each city offers something the other doesn't. And now you don't have to choose; you can have it all."
HOT NEIGHBORHOOD
SUNNY ISLES
A new oceanside condo raises the bar for luxury. 
In Miami, the words "real estate" and "Turnberry" have become practically synonymous over the course of the last half a century. "We built the city of Aventura," says Dan Riordan, president of residential development for Turnberry Associated. "Not many developers can say that."
Donald Soffer, Turnberry's founder, snapped up a classic package of Florida swampland in the area that is now Aventura, lying just inland from the coast and close to the community of Golden Beach. The area has long been home to one of Miami's best-known luxury shopping destinations, and now the members of the Soffer/Turnberry empire are turning to the oceanfront in Sunny Isles for their next venture: Turnberry Ocean Club (18501 Collins Ave., 305-702-8272; turnberryoceanclub.com), an almost all0glass building designed by Carlos Zapata.
The goal, Riordan says, is to create an iconic structure. "If you look around, a lot of the new condo towers haven't been landmark designs. Now, a growing number will be legacy building, and ours will be among them." The face that Sunny Isles is one of the only stretches of Miami's beachfront that permits buildings to rise above a dozen floors or thereabouts gives Turnberry a design edge, he believes. "We'll have 54 floors – and six of them will be devoted to amenities." That includes three floors that start at the 30th floor, where the developers will incorporate sunrise and sunset pools for adults and even offer a retreat for residents' pets.
The smallest unit in the building will have three bedrooms; Turnberry doesn't want just anyone signing on the dotted line. "We're not looking to fill up the building with investors," Riordan says. At $1,300 to $1,600 per square foot, the residences will end up as some of the most expensive on that stretch of beach, but he isn't worries. "We're not trying to price ourselves out of the market, but we want each project we work on to be special and unique."
POWER PLAYER
JORGE PÉREZ
The Related Companies founder, who helped transform Miami into a global city, predicts a new influx from the North. 
"There is an almost universal desire to be in Miami," says Jorge Pérez. The Argentine-born real estate developer has played a key role in transforming Miami into the kind of city that New Yorkers find themselves wanting to spend more of their time in. When he first moved there more than 40 years ago, "It was a ghost town," he recalls. Pérez felt the urge – and believed he had the unique opportunity – to create great urban neighborhoods.
Working first as a planner and then as a developer, that's precisely what he has done over the last four decades. The billionaire founder of the Related Companies has become one of the biggest developers of luxury condominiums in Miami, beginning with the construction of towers in South Beach and Sunny Isles before moving on to the Brickell area, where he has had his single-greatest impact on the city.
"Miami is about a lot more than the beach these days, and the Miami real estate market is about a lot more than the Latin-American buyers," who helped the city's condo market recover so dramatically from the sell-off, says Pérez. He's experiencing this firsthand in his latest project in the neighborhood of Brickell Heights (850 S. Miami Ave., 855-663-2434; brickellheights.com). In the first phase, sold about a year ago, New Yorkers accounted for only about 4 percent of buyers. In the second phase, they make up about 33 percent of buyers, and he's seeing the same level of interest in SLS Lux Brickell (801 S. Miami Ave., 305-600-0958; slsbrickellavenue.com), a luxury condo-hotel development that will include a rooftop pool and art displays. "New Yorkers are coming more frequently." And that's just as it should be, Pérez believes, given that Miami now has earned its status as a global city.
HOT NEIGHBORHOOD
DOWNTOWN MIAMI
This cultural mecca is hotter than hot and projected to see the greatest growth in the next five years.
Miami's downtown core, long the overlooked cousin to Brickell just across the river, is about to emerge as one of its newest residential hubs. "Downtown is the area that will see the most growth in the next five years," says developer Harvey Hernandez. The restaurants are already there, and like man of Miami's prime residential neighborhoods, the beach is no more than 10 minutes away. "You can buy tremendous views for a fraction of the price," he says.
"One night we were in downtown Miami and there was a traffic jam; I looked out and felt exactly the same buzz that I fell when I'm in New York!" says Daniel Kodsi, principal and CEO of RPC Holdings. Kodsi is among the developers behind one of the biggest real estate projects that Miami has even witnessed: Paramount Miami Worldcenter (1010 NE Second Ave., 855-756-0123; paramountmiami.com). Part of a 27-acre multi-use development (a mall anchored by Macy's and Bloomingdale's, a giant hotel, and a conference center in addition to condos, all on the site of the former Miami Arena). The condo's amenity deck is what has grabbed attention: Built atop the mall, it will even have a soccer field.
And from downtown, developers are starting to inch northwad, to Edgewater, on the other side of the museums and the art center and a stone's throw from the Design District. Reid Boren, managing partner of Eastview Development, is overseeing the Biscayne Beach condo construction (701 NE 29th ST., 305-409-5722; biscaynebeachcondo.com). He says over 90 percent of the project has been sold, and a fifth has gone to New Yorkers and other Northeasterners. "Bit by bit," Boren says, "people are discovering new parts of Miami they want to live in, just as happened in New York. Downtown and Edgewater have been the beneficiaries."
WHO'S HERE: What was once considered a 9-to-5 business district is now emerging as a dense urban center as restaurants, cinemas, and major ommerical developments like the Miami Worldcenter attract young professionals and families. The new Zaha Hadid-designed residences at 1000 Museum is sure to serve as catnip for New York hedges who might otherwise opt for a condo on the beach.
WHERE TO EAT: Area 31's spectacular view of the Miami skyline attracts power couples like Gloria and Emilio Estefan. Organic seafood and an extensive wine list lure Miami's stylish set to The River Seafood Oyster Bar (S. Miami Ave., 305-530-1915; therivermiami.com), while hip, well-heeled crowds head to Ceviche 105 (105 NE Third Ave., Miami, 305-577-3454' ceviche105.com) for authentic Peruvian fare and an artsy setting.
WHERE TO SHOP: The Seybold Building (36 NE First St. 305-374-7622; seyboldjewelry.com) is home to more than 280 jewelers. The upcoming Mall at the Miami Worldcenter (5201 Blue Lagoon Dr., 305-262-4974; miamiworldcenter.com) will house a 120,000-square-foot Bloomingdale's and an outdoor promenade of specialty shops.
CULTURE: For a taste of historic Miami, the Olympia Theatre at Gusman Center for the Performing Arts (174 E. Flagler St., 305-374-2444; olympiatheatre.org), a beautiful Mediterranean-Revival theatre, is home to the Miami International Film Festival.
POWER PLAYER
THE GROSSKOPFS
Fashion adds new wow to Miami's luxury condo scene.
Location, location, location. Add branding to that mix, and you've got an idea of what Chateau Group hopes will be a recipe for luxury real estate success in Surfside. Sergio and Manuel Grosskopf, the father-and-son team form Argentina behind Chateau, have already overseen the construction of Chateau Beach Residences (5795 Collins Ave., 305-944-4440; chateaubeachmiami.com), a 35-story luxury tower in Sunny Isles – and so great was the demand for units that buyers forked over 70 percent of the purchase price before the building was even completed.
Manuel Grosskopf expects to do the same with Fendi Chateau (9365 Collins Ave., 305-944-4440; fendichateauresidences.com), his firm's latest and most ambitious venture into Miami real estate. It's only the second time that a fashion design company has crossed over into the world of real estate design, but the announcement came only weeks after news of a joint venture between the Armani Group and two other Florida developers for a project in Miami. The Fendi Chateau residences will be something quite different – it's a boutique project, with only 58 units (compared to 260 for the Armani venture in Sunny Isles) within the 1-sotry complex.
Unsurprisingly, it's all about design – even the exterior architecture will mimic the waves of the Atlantic Ocean. And inside? Fendi-designed cabinetry, of course; residents will be able to choose to furnish their new homes with items for the Fendi Casa line.
As more and more condo developments are added to the market, Grosskopf has thought carefully about what Chateau will offer buyers. He says fears about oversupply aren't well-founded. "In the last cycle, from Sunny Isles to South beach, there were almost three times a many units as there are under development now."
HOT NEIGHBORHOOD
BRICKELL
An urban lifestyle, with palm trees.
Go to Miami and not live right on the beach? At one time, the mere idea would have been heresy. But that was before a bunch of canny developers decided that Brickell Avenue, which in the 1900s had been known as Miami's "Millionaire's Row," could be so again, with the addition of luxury condominiums among the cluster of office towers and hotels that dominated the landscape. Back in the 1970s, recalls Related Group's Jorge Pérez, the streets in the area were empty on any weekday after 5 pm, and those on the north side of the bridge in the heart of downtown were vacant even during daylight hours.
Pérez was one of the developer who fought to change that vibe. His Phillippe Starck – designed Icon Brickell (475 Brickell Ave., 305-371-1411; iconbrickell.com) is only one of a vast array of condo towers that have made Brickell one of the most densely populated neighborhoods in the country – and one of the hottest areas for Miami's urban aficionados. In spite of all the frenzied building in Brickell over the last decade, real estate price tags remain well below those that buyers would confront for beachfront property, often topping out at around $1,000 per square foot. And they are getting higher – Property Markets Group's Echo Brickell properties (1451 Brickell Ave., 305-931-6511; echobrickell.com) are being offered at a record $1,200 per square foot. A 10,500-square-foot penthouse is on the market for $40 million – a breathetaking sum for a property that faces Biscayne Bay rather than the ocean.
Still, those aren't Miami Beach prices. And it's that relative value proposition that tempts early players in Brickell to keep returning. One OF these is Ugo Colombo, whose latest Brickell project is a 65-story glass tower, the Brickell Flatiron (1001 S. Miami Ave., 305-400-7400; brickellflatiron.com), which will have Julian Schnabel as "artist in residence." Schnabel will play a role in the design, and his work will be showcased throughout public spaces. "Living with art is the most luxurious amenity I could provide," says Colombo.
POWER PLAYER
EDGARDO DEFORTUNA
A new partnership helps brings Manhattan to Miami.
Currently, he's building the ultra-luxury Jade Signature condominium complex (1300 Brickell Ave., 305-940-0335; jadesignature.com) in Sunny Isles in partnership with the Chateau Group as well as working on two ventures with the Related Group, one in Brickell and one in Fort Lauderdale.
HOT NEIGHBORHOOD
FORT LAUDERDALE
Developers and buyers head north of Miami for good value and a laid-back vibe.
Fort Lauderdale, long the domain of retirees and college students on spring break, is starting to emerge as an alternative of sorts to Miami for those who want bigger bang for their buck. "A growing group of people are thinking Miami is either too expensive or at least that the values are more interesting here." Says Harvey Hernandez, whose Newgard Development Group in addition to developing loft-style apartments at Centro Lofts Miami (96 NE Second Ave., 305-938-5321; centromiami.com) in downtown Miami is renovating a historic Fort Lauderdale beachfront hotel, which will also have luxury condo residences and will be called Gale Fort Lauderdale Boutique Hotel and Residences (2900 Riomar St., 954-296-6741; galefortlauderdale.com). "The gap in valuation between Miami and Fort Lauderdale is wider than it has even been," thanks to the rapid surge in condo prices in the last few years, says Hernandez. A beachfront property that might fetch $1,500 per square foot in Miami may be half that in Fort Lauderdale, and you're likely to end up with some of the same amenities.
He isn't the only developer eyeing Fort Lauderdale. So many are now launching new projects in the city that cranspotters.com, the Miami condo database and consulting firm that tracks new construction, expanded its bus tours for industry watchers and potential buyers to include Fort Lauderdale as of February. Among the projects they'll be eyeballing are the Auberge Beach Residences (2200 N. Atlantic Blvd., 954-514-7494; paramountresidencse.com), where prices will start at $1.2 million. "It's all about the beach, whether it's in Miami or a bit farther away," says Motwani, whose brother, Dev Motwani, will be bringing a new Four Season to Fort Lauderdale in 2018.