Owners break ground on condo towers to replace iconic Ireland's Inn
The Ireland and Mitchell families started discussing the idea of redeveloping their iconic Ireland's Inn on Fort Lauderdale beach in 2002.
But before they could get serious, Hurricane Wilma hit in 2005, damaging the seven-story hotel, which closed for good in 2007. Plans were also put on hold over a historic preservation battle, and the nation's housing meltdown and financial crisis led to still more delays.
On Monday, the two families and their development partners finally broke ground on the Auberge Beach Residences & Spa Fort Lauderdale, a $550 million luxury condominium expected to open in 2017 at 2200 N. Ocean Blvd.
"It's been a journey beyond imagination, hold hand grenades," said Andy Mitchell, head of Ireland's Inn and point person for the redevelopment.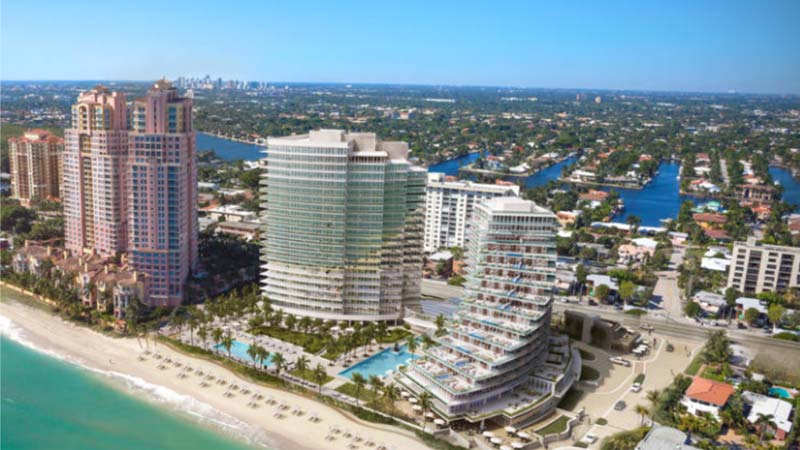 Mitchell's wife is Kathy Ireland-Mitchell, whose father, Jack, helped open the beachfront hotel in 1965.
The 100-room resort was known for its homespun hospitality and a signature restaurant and lounge that boasted the best pan-fried chicken recipe around, locals say.
"It was like you were at home," said Wayne Rismiller, a frequent guest and former Ireland family accountant.  "They waited on you hand and foot."
Andy Mitchell, a former executive in North Carolina, joined the business in February 2002. It wasn't long before seasonal swings, escalating costs and crumbling fixtures forced the owners to confront the reality of a redevelopment.
To make it work, they needed to assemble 28 adjacent parcels, which required "tactful, strategic planning," Mitchell said. They also had to change the zoning and defend against efforts by preservationists to save the old hotel.
Between 2004 and 2008, Mitchell said, he attended more than 450 meetings with city officials, neighborhood groups and business and civic associations. He said he and Jack Ireland also rode bicycles through the area seeking input from residents and merchants.
"You can't go into meetings with big muscles ready to pound somebody," Mitchell said, "You have to listen."
The two families later teamed with Fortune International Group and planned to build a Mandarin Oriental hotel and condos. Ultimately, the group brought in The Related Group and decided a two-building luxury condo made the most sense.
Last year, the partners announced that the California-based Auberge Resorts Collection would manage the 171-unit condo project, where prices range from $1.4 million to more than $9 million. The property will have three restaurants and a world-class spa.
"Projects like this don't get built without tremendous community support," Fort Lauderdale Mayor Jack Seiler told a crowd of about 150 people on Monday. He also commended the development group, saying, "everything you have promised, you have delivered."
Carlos Rosso, head of the condo division for Related, said the oceanfront location distinguishes Auberge from other condos going up in the city. Roughly 85 percent of the 17-story north tower is under contract, and sales have started for units in the 23-story south tower.
One of the buyers in the north tower is former Miami Dolphins quarterback Dan Marino, who said he was drawn to the project by Related Chairman Jorge Perez.
"He always associates himself with first0class, high-end stuff," Marino said at the groundbreaking.
While some new developments are off-limits to everyone but residents, Mitchell said he insisted the Auberge restaurants and spa be open to the community.
"Our commitment to the public all along was to build something they could enjoy," he said.