The South Florida condo boom is migrating north to Fort Lauderdale, offering a different style of luxury.
If you haven't been to Fort Lauderdale recently, you're in for a pleasant surprise. No longer Miami's less flashy neighbor to the north, the city is undergoing a renaissance and establishing an identity of its own that's a far cry from its reputation as a spring break paradise.
The boating capital of the world, Fort Lauderdale now attracts visitors from not only the US and Canada but around the globe as well. It boasts world-class dining, shopping, and cultural activities, and it's home to tech industry start-ups, the world's largest in-water boat show, and, of course, some of the nation's best beaches.
Those are just a few of the reasons why people shopping for a luxury condominium are flocking to Fort Lauderdale. But there's another, perhaps even more important reason: pricing.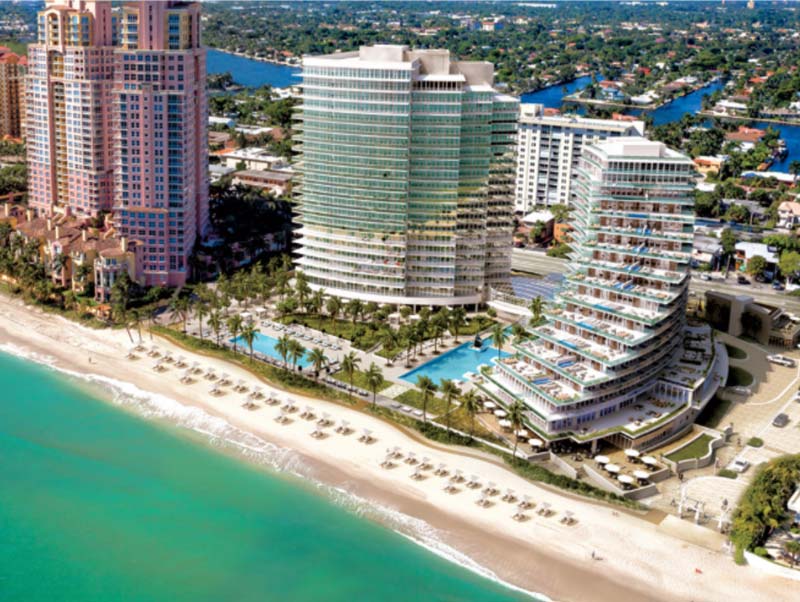 According to Craig Studnicky, a cofounder of ISG World LLC, a real estate sales and marketing firm, there's currently a 261 percent difference between the price of a new condominium in Miami Beach and one in Fort Lauderdale. For new construction, the average price is $2,400 per square foot in Miami Beach (although many new luxury products command much higher prices) versus $920 per square foot in Fort Lauderdale. Clearly you can get a lot more for your money if you're willing to give up a bit of the glitz of South Beach and househunt about 40 miles north.
"Miami Beach is insanely expensive," Studnicky says. "That's why Miami developers are now in Fort Lauderdale. It's the new frontier."
One of the most eagerly anticipated new projects in Fort Lauderdale is Auberge Beach Residences & Spa, now under development at 2200 North Atlantic Boulevard by the Related Group, Fortune International Group, and the Fairwinds Group, with occupancy expected in 2017. The oceanfront project consists of two towers and a total of 171 units, each with private elevator access. The north tower is 85 percent sold, and sales for the south tower began on November 5. Prices range from $1.4 million to $9 million.
"We don't think there's anything that reaches this level of luxury in Fort Lauderdale that's currently being marketed," says Patrick Campbell, a Related Group vice president. "We're offering resort-style amenities without the resort."
The Gale Boutique Hotel & Residences is a condominium and hotel project under way at 2900 Riomar Street and 410 Bayshore Drive, courtesy of Newgard Development Group. Slated for completion in 2017, it will feature 129 condominiums in a 12-story building and 96 hotel rooms in an adjacent two-story boutique hotel (to be managed by Menin Hospitality). Priced from $400,000 to more than $1.2 million, the units are over 50 percent sold.
Then there's the Ocean Resort Residences at Conrad Fort Lauderdale Beach Resort, with 109 condominiums and beachfront villas, as well as 181 "resort residences" starting in the $400,000 range. Located at 551 North Fort Lauderdale Beach Boulevard, the development includes studios; one-,two-, and three-bedroom units; and penthouse, as well as amenities such as a Conrad-branded spa, a pool and poolside restaurant, private butlers, oceanfront dining, and a gourmet market.
Slated for completion in the winter of 2016-17, the Paramount Fort Lauderdale Beach, an 18-story condominium building at 700 North Atlantic Boulevard with 95 units priced from $1.2 million, is currently 70 percent sold. The developers recently announced that they have partnered with LM Restaurants to debut a Mediterranean-inspired eatery on the ground floor of this oceanfront development.
Riva, located on a two-acre site at 1180 North Federal Highway, across the Middle River from George English Park, is a 15-story project from Premier Developers. It features 100 residencies, including the 12,000 square-foot River Loft, a two-story unit priced at $5.25 million that boasts an 83-foot-long terrace overlooking the river and a private boat slip.
The Residences at W Fort Lauderdale, with units starting in the $600,000 range, consists of 147 luxury condominiums at 3101 Bayshore Drive. They offer between 800 and 1,500 square feet of space and will be delivered fully furnished, with features such as Italian cabinetry, polished stone countertops, entertainment centers, spacious balconies, and the signature W Hotels bed. Building amenities include multiple pools, cabanas, a fitness center, the Bliss Spa, the restaurant Steak 954, and the W Hotel's Living Room, which features food and cocktails. Condo owners also have access to hotel amenities.
The northern section of Fort Lauderdale Beach – an area referred to as North Beach – is the site of most of the new development in the city. Says ISG's Studnicky, "Most people don't know it, but $1.3 billion is going to be realized in east Fort Lauderdale within the next three to four years."