For at least a few years now, many of us have wondered what was going to become of the old Ireland's Inn site on Fort Lauderdale Beach. But one couple here in Harbor Beach, Andy and Kathy Mitchell, with roots to the iconic site, have actually known for a while now what was going to happen with it…and recently announced exciting plans for the site to become the new Auberge Beach Residences and Spa, a one-of-a-kind luxury residential development to be built on the oceanfront site on Fort Lauderdale Beach.
The "casual elegant luxury development" of 171 residences is being developed by Andy Mitchell, president and CEO of the Fairwinds Group, who has partnered with Jorge Pérez of Related Group, and Fortune International, two of the most successful developers in the business. Managing the new resort-style residences and spa will be The Auberge Group, a high-end boutique hospitality firm which owns and runs resorts in California, Colorado, Mexico and the Caribbean. Related Realty will manage sales of units at Auberge Beach Residences and Spa in collaboration with Fortune Development sales.
Andy says he could not be happier with the joint venture and his new partners. As a longtime resident of Harbor Beach in Fort Lauderdale with a family connection to Ireland's Inn, he wanted to maintain and continue to build upon the sense of community that's so unique to Fort Lauderdale. He sees Auberge as providing a high-en home for luxury "empty nesters" who will become a part of the community, as well as second home-owners.
We wanted a brand [Auberge] that fit with the lifestyle of Fort Lauderdale. This is going to be world class, but not pretentious. As a longtime resident here, I am vested in this community and we wanted to 'do the right thing' for Fort Lauderdale. Out hope is that Auberge Beach Residences will be a magical place where families can make memories.
This $500 million oceanfront project 35 miles north of Miami brings the renowned Jorge Pérez and his Related Group into the Fort Lauderdale Beach area, an area where he sees much potential for growth. The developers unveiled plan to build two towers on the 4.6 acre site in a venture which was described as a home for the "buyer who wants luxury with a casual lifestyle with sophisticated taste."
Groundbreaking for the two towers will be in 2015. A 22-story south tower will house 115 units. A 17-story north tower will have a curved exterior and include 56 bigger units with expansive cascading terraces, all with private elevator access.
The average price per square foot: $1000 with units starting at 1,700 square feet to over 5,00 square feet not including the luxurious terraces ranging for almost 900 square feet to almost 4,000 square feet. Two exclusive two-level Penthouses residences will offer almost 5,000 square feet of air-conditioned living space and over 3,500 sf of terraces.
Prices are expected to range from $1,500,000 5o $8,000,000 with an average at $3,000,000. Buyers from Latin America and other regions aboard have been purchasing about three-quarters of the condos sold in top Miami-area locations such as South Beach, where ocean-front units command up to $3000 a square foot, an Pérez feels that Fort Lauderdale luxury market is undervalued and ready for the next phase of luxury high-end units.
Where the majority of homes and condos are being purchased with cash by foreign buyers, these developers believe the buyers for Auberge Beach Residences will be a mixture of foreign buyers and local homeowners wishing to downsize while maintaining a luxury lifestyle with a casual elegance. The oceanfront development will have a tropical community pool, but some of the owners will have pool options on their terraces. There will be a state-of-the-art fitness center, a full luxury spa in the Auberge brand style, two restaurants (open to the public), covered parking with mechanical garage, valet, and famous art in the public areas. The buyer profile is someone who wants to be close enough to the Miami scene without the hustle and bustle of living in South Beach and can enjoy the quieter Fort Lauderdale area with all of its amenities. 50% deposits are required.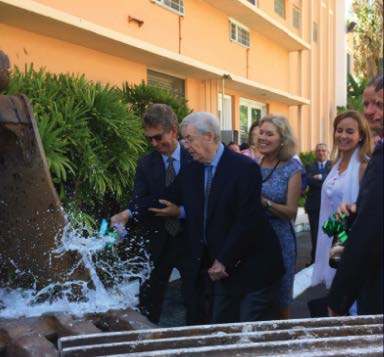 Historically, construction of condo developments did not commence until 80 percent of the units were pre-sold with buyer depositing an upfront deposit of 10 percent increments as the projects meet benchmarks such as groundbreaking and tower-topping. Carlos Rosso, president of condominium development for Related Group says this development will be different in that buyers must pay 50 percent deposit upfront which will help with the construction costs and bank's support. It will insure that they will be getting "real buyers" and not the flippers and other speculator's that we saw in the past.
While some buyers may have access to financing, all of them must have the wherewithal to pay cash, according to Edgardo Defortuna, chief executive officer of Fortune International. That's not a foreign concept for U.S. homebuyers. All-cash deals accounted for 24 percent of existing home sales in September, according to the National Association of Relators.
Congratulations, neighbors! We're delighted to see what you're doing with Ireland's Inn, one of Fort Lauderdale's icons of days past and soon to become home to a new icon heralding Fort Lauderdale's bright future.
Credit: Carolyn Burns, Harbor Beach Magazine